TL;DR - Marvin's doing ok after receiving proper care, but she's got some healing to do.
Wednesday June 7
I was in the kitchen and about to get ready to leave for dinner when I heard Jericho fly to a rope perch where Marvin was sitting -- then, Marvin's squawk.
Looking up, I briefly saw Jericho had Marvin's leg in his mouth for at least a second before letting go and she flew off.
Normally Marvin flies away from Jericho with no issue, but my theory is one of her nails got stuck in the rope perch and that delayed her escape.
She landed clumsily on another perch, and she let me pick her up. She laid back against my palm and I could see her foot was bloody and abnormally twisted.
I retrieved her small carrier and placed her there while I called around for assistance.
My regular avian vet has started practicing at various clinics so I never know where he is on any given day (clearly I need a way to figure this out) -- both places I called said he wasn't in.
The closest avian vet was closed, but I left a message and was impressed that he called me back almost immediately and confirmed that Guelph was probably the best place to go.
Campus Estates in Guelph is set up for avian emergencies and they were able to see us at 7:30pm that evening.
Marvin's foot was still oozing blood which I helped clot with cornstarch before putting her back in her travel carrier.
Throughout the ordeal, she was alert, but obviously very protective of her foot.

​
All that happened between 3 and 3:30pm.
We left home around 5pm to make the 2 hour drive.
Once we were seen, Marvin was given pain meds, and then sedated so images could be taken to get a better look at what was going on.
There are always risks from sedation, and they're greater for smaller species, and greater still for birds who have experienced recent trauma, but it's necessary to chart the path forward.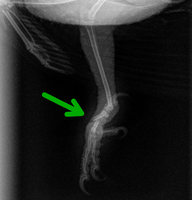 ​
According to the AV I was speaking with, that section of Tarsometatarsus bone is quite small, so it doesn't lend itself to being pinned, but it can be splinted so that's the approach we decided on.
During this discussion, they mentioned that it's more common to see breaks in the longer Tibiotarsus and for breaks there it's common to insert a pin to assist in healing, plus they also commented that surgery for pin insertion would need to be referred to and performed by 404 Veterinary Emergency and Referral Hospital in Newmarket (filed away if needed).
The complication with Marvin's case is the soft tissue damage is extensive enough that it needs to be monitored, so they can't fully harden the splint like they would for just a break.
We're also hopeful there isn't much crush damage to the bone so it has enough surface area to fuse back together.
The other thing we need to watch for is if the foot turns from pink to purple to black, then the blood flow to the foot has been compromised and will need to be amputated.
Best case, she has a functional foot after it fully heals.
Lesser outcome, the bone and blood allows the bone to heal, but there is nerve damage so the foot may be gimpy.
Another lesser outcome is the soft tissue damage requires the amputation of the foot and Marvin has a peg leg with that long intact tibiotarsus.
Worst case outcome is she doesn't survive one of the future sedations she'll need to apply and maintain the splint.
They are keeping her overnight confined in an incubator supplying supplemental heat and oxygen.
The splint may be applied tonight, or in the morning depending on how she is responding.
If all goes well, I'll be picking her up tomorrow, but she needs to be re-checked in about 4 days to see how things are aligning and how her soft tissues are.
I returned home by 11:30pm to a dark house with my 2 boys, minus my little girl.
Thursday June 8
The update this morning is Marvin had the splint applied and is in a cone to stop her from chewing it.
Those two things are making her unsteady and they recommended she stays overnight again so I agreed.
Apparently she fell face first into some food and started eating, so that's a good sign.
I'm spending the day preparing a hospital cage where she can heal for 4 weeks.
It's abnormally quiet around the house, and I miss Marvin landing on my head.
Costs
Emergency exam, pain meds and radiograph - $705.41
Splint, more radiographs, more medication, overnight monitoring - $1391.33
Gas - $50
Starbucks coffee and light meal while waiting - $10
Dinner friend who met me in Guelph and stayed with me the entire time - no charge, and priceless
Key takeaways
I should have trimmed Marvin's nails as soon as I noticed she sometimes got them stuck on my clothes.
I'll need to seek professional help with Jericho's aggressive behaviour that's directed at Marvin and Oscar (worse currently due to the season).
The cost of proper care for our animal companions far exceeds the initial acquisition.
That's where things stand currently, but I'll update as new information emerges.