Hello ,
I was wondering if anyone can help me identify what type of Pigeon or Dove Smokey is.
He is a rescued Feral and I think hes about a month old. I found him in the middle of a road on my way home from collage.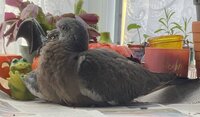 I was also wondering if anyone has any tips on getting a Pigeon/ Dove used to you so it will let you hold and pet it/cuddle with you? He likes company and wants to be around me and will sit ontop of doors / window ledges but is jumpy and nervous when you approach him. He will very rarely let you pet him but is happy to eat out of my hand from time to time.​
Last edited: