Joined

10/15/18
Messages

26
Real Name

Carle Marie Jones
Hello! My name is Gemini.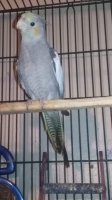 Im a happy cockatiel. See my smile! My momma loves me very much and thought that if we joined this forum, she may learn ways to better care for me and strengthen our special bond. She has hand raised me since I hatched from my egg. She's my best friend. I love to clean her hair and pick at the freckles on her arm. Singing is so fun, I'm trying to learn the addams family right now, I've almost got it!! My daddy helps a lot too! He buys my millet spray, that's my favorite treat, and my yummy food! I love them both very much. One day, they hope I can be comfortable around their other child, she's 3 years old. She scares me.. OH! and maybe I'll have a bond with their baby that's coming in 22 more weeks! I hope so. Would you olplea leave some tips for my mom and dad? It can be anything you want! They would love that very much! Please and thank you!
Oh, also, can I see pictures of other beautiful birds? I love to make new friends!