Checking out the neighborhood
Joined

10/15/22
Messages

3
Real Name

May Johnson
I wonder if this bird I have now is the same one I have lost before. Can anyone help me figure this out?
I lost my male Cockatiel (4 months old) on June 25, 2022 before molting, 3-4 months after, someone caught a similar one and reached out to me.
The only difference I noticed is the intensity of its gray pearl pattern whereas he already molted and a dark streak on its beak.
He looks like around 7 months old.
He can also whistle a tune now.
Before I lost my cockatiel, he was starting to get noisy. The timing is just accurate also the location, when I lost him he flew East. This bird I have here also came from that area.
This is my pet: (June 2022)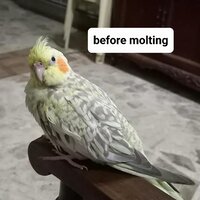 This is the one we caught. A darker pattern after molting. (October 2022)
HOW DO I FIGURE OUT IF HE IS THE SAME BIRD?
No one in social media had posted about this particular bird since I am expecting a Missing post around our area, that's why I feel like he "might" be my missing pet months ago.