♥❀Livin´ in Lovebird Land❀☼
Super Moderator
Avenue Veteran
Celebirdy of the Month
Mayor of the Avenue
Avenue Spotlight Award
Avenue Concierge
Joined

1/8/18
Messages

28,621
Location
Hi guys,
I have a slow growing Roseicollis, hatched 22.Dec.2018, he is 37 days old.
The others in the clutch are almost fully grown and are leaving tomorrow.
The youngest wasn´t being fed from 5 days old, I stepped in, he lived in the nest but was fed by only myself.
He looks about 1.5weeks younger than the other yet is only a day younger.
So, I noticed about a week ago that the little one, Adelie, still has his foot ¨closed¨, like the claw machine coming up after missing the plushie.
I thought this was because he is growing much slower and that he would eventually open his foot but he still walks with a closed foot.
I have been putting my little finger in his foot for the last day or so to encourage his to grab my finger. it seems to help, but I may just be being optimistic. On my hand, he seems to be trying to open his foot, but it still doesnt look right.
What´s your thoughts? will it open in time? Is there something else I can try?
This bird is not being rehomed like the others, He´s staying with me.
I´m going to go and take some photos and come back here on my mobile to upload pics.
Edit; pictures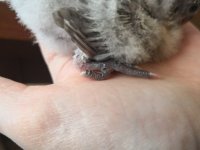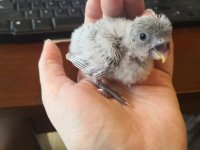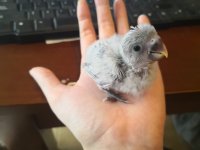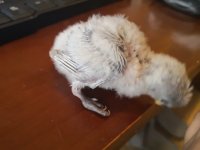 The other foot is ok: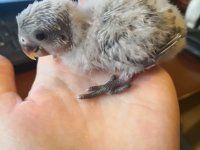 Last edited: