Joined

12/15/20
Messages

12
Hello me again
My cockatiel has an 11 day old chick and I'm worried about its development and would like your opinion....
I gave attached a picture to this post of the chick, like I said it's 11 days old and is still not using his feet beside to wriggle round in circles. As you can see in the picture it has a lump on its feet (it's the same both sides)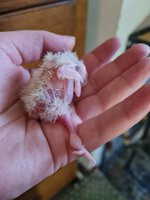 and it feet are very pale. Is this normal? Is it just becuase it's legs already still developing? And should I be concerned?
Thankyou in advance