Joined

2/22/21
Messages

8
Real Name

Ash
This is about Charlie, our baby pastel cockatiel. He is currently around 32 days old. Last week, he already had an internal infection of fungi in his throat and some bacteria in his digestive tract, causing his droppings to be like a suspension (some powdery stuff like undigested formula separated from the water) or completely liquid (a mixture of both stool and water; real diarrhea). We took him to the vet and he is prescribed these two medicines for a week.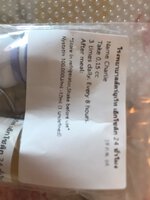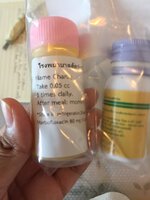 If you can't see clearly:
The first one is Nystatin, which is an oral suspension, meant for his throat infections. We were to give this to him every 8 hours, but we slightly delayed it due to inconvenience and work.
The second is Marbofloxacin, which is for his digestion. We are prescribed to give it to him once a day.
NOTE: the vet did mention some allergies but we forgot to ask what the symptoms are.
He is recovering and getting better, and we reduced his dosages, which appears to not have much effect. But just today, he seems to have something wrong with his eyes. He was normal throughout the day but in the evening his conjunctiva seems slightly red and below his lower eyelid a bit swollen. He was sleepy and wouldn't do anything. He would even face upwards to try to breathe with his beak open. We just gave him a eyedrop that can also be used for healthy birds without side effects and a bit of aloe vera gel. We think that maybe some dried up bits of formula around that area caused him to try to claw it out, scratching himself and making it itch in the process. But we can't be sure yet. We might be too paranoid because of his previous incident XD.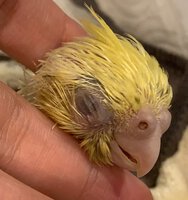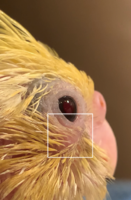 You can see the slight swelling.
When we dimmed the lights he seemed to be back to normal, active and playing around again. His eyes didn't have a problem at all, like it's never happened!
But please tell me if there is anything wrong with him? I am very worried and we cant go to the vet because of work. Tell me ASAP!