Hi everyone! I have a 5-8 months old turquoise-yellow side greencheek named Bingo! (Male)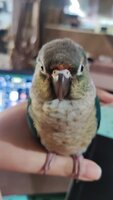 So I wanted to bring a cage mate for him , but I don't want them to have eggs so I don't want to bring a female.
But is it ok to have two male ?
Or a should I just don't bring a cage mate?
(And I read about bonding them so I know I should have two separated cages )
Any help or advice, I appreciate it