Checking out the neighborhood
I came home and found my bird pooping dark red poops. I haven't fed any dark red foods and she doesn't eat colored pellets. I can't get in to my avian vet until tomorrow morning, possibly later. What can I do for her now?
Edit: She's also acting "normal" (talking, kissing, eating, etc), but I know they're great at hiding what's wrong.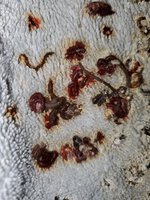 Last edited: