Does anyone have experience dealing with ligament damage in birds?
Background: the store I shop at has a B&G macaw who suffered damage to the joint of one of his legs during an accident.
Diagnosis: x-rays show a separation of the knee joint between the femur and tibia (they're clearly no longer connected in the image I saw).
Complication: before they went to an avian vet for x-rays, they gave him time to see if the lameness would mend itself (I think they left it for 2 weeks).
During the initial consultation, the vet said they had, "left it too long", and that in cases like this the ligament, "dries out", when it's detached for that long and therefore cannot be repaired.
Any insights?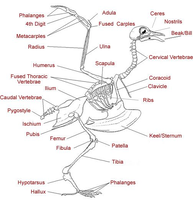 ​