Meeting neighbors
Avenue Veteran
Joined

7/22/12
Messages

51
Location
Real Name

Holly Madison
Hello everyone,
About three and a half years ago, I was given the most amazing opportunity (because of these forums) to adopt my African Grey Henry. Henry is now 14 years old, and has only plucked once in his life during a time of distress many, many years ago (literally he plucked for one day and never did it again). He has been fully feathered, but he sometimes gets a slightly "homeless" looking spot on his chest when he's molting.
A few days ago, I mentioned to my husband that he looked uncomfortable because we noticed a ton of tiny pin feathers coming in around that same spot. Now I don't see the pin feathers anymore, but he suddenly has two bald spots. These are way beyond what I have ever seen on him before, and I am seriously worried sick. I have been watching him like a hawk... he is acting normal. He's preening right now, but I'm not seeing him pluck anything out. He doesn't seem lethargic. I don't know what could be going on, but I'm scared.
We used to have an avian vet who was right down the street from us, but she moved away. I looked online, and the closest avian vet is a 2 hour drive away. Henry HATES crates and hasn't been to a vet since he was a baby. I am very scared to force him into a crate and have him in the car for 4 hours to see a vet... I'm scared the stress of that might make things worse.
Please, can anyone give me input on what this might be or what I should do? I was reading up on the various things this could be, from plucking to bird mites. I think I scared myself more than I need to... I remember seeing him yawn like 4 times in a row 2 days ago, and as of last night I was just convinced that that meant he must have mites in his air sacs. I did a sweep of his cage and his main bird stand, as well as his body, and I haven't found any evidence of mites though, and he's singing and whistling like normal.
We also have a rescue lesser sulfur crested cockatoo and she is not showing any signs of anything abnormal.
Other factors that probably don't matter but might: We're trying to buy our first house and have been stressed. I doubt my stress would have transferred to Henry, but you never know. The other new thing is that we recently found some wild mice living in a corner close to Henry's cage. This house has had mice problems off and on for the past decade, but there have been more mice than normal lately and we've had to use mouse traps to get rid of them. We found a box that had a ton of droppings in the corner near his cage, and we got rid of it and cleaned the area well. The mice couldn't have made him sick or something, could they? For the record, we do keep the birds' cage clean, though he's really only in it to sleep. He's with me the rest of the day, every day.
Please tell me that I'm worried for nothing.
Here are some photos from yesterday so you can see what I mean. Sorry they are bad... I had to use the flash and Henry doesn't like the camera.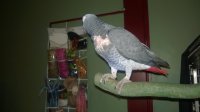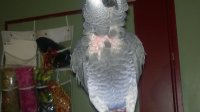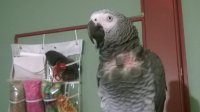 I can't tell if these little feathers are chewed off "normal" feathers, or are baby feathers. I should be able to tell after 3 years, but I guess I can't.
Also, am I being paranoid, or do his wings looks droopy? This is him right next to me, right now. He does have his "sleepy face" on.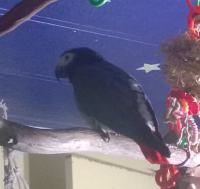 Last edited: