Joined

11/13/22
Messages

13
Real Name

Lily
Hello! About 2 weeks ago i found Leo, a 3 week old lovebird that was raised by its own mother in a large cage full of birds and was attacked by other lovebirds, which I assume was because the birds were territorial. The poor things feathers were ripped out from the back of its head to its neck, so i decided to treat it and raise it on my own.
Here is a photo after he was attacked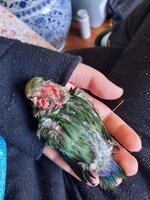 As time went on 2 weeks after thankfully his head healed and he is always active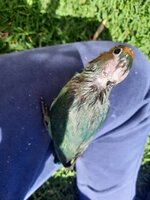 Good news is he has teeny tiny little new feather sprouting out of his head!
Although there is a problem
Now that their 5 weeks i saw Leo's siblings had fully grown their feathers on their belly but Leo hasn't?
Here are some photos sorry its pretty blurry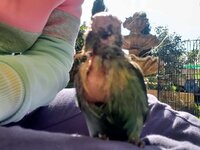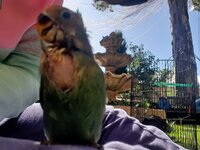 I'm worried am i underfeeding him? should i be concerned about this or is every bird different in its growth?
For his feed i put about 15ml bird formula and 15ml hot water
Please let me know if this is normal or not and what i can do
And it would be appreciated to know methods on promoting its feather growth on its head and neck.
Thank you.