Joined

3/24/23
Messages

93
This weekend has gone to the birds for us. Hubby and I went to look at a pair of rosy bourkes and over the course of a weekend we ended up bringing home a managerie of gorgeous birds and a large full wall bank of cages to set up a bird room. Not planned. At all. But it happened. Owner has cancer and needed to rehome all her birds so she could move to the other end of the country to be with her children and grandchildren. Very sad.
Anyhow in the end we took home everything she had except a pair of eastern rosellas that were in a very large double flight cage. I didn't feel confident enough to be able to handle them but they sure were beautiful.
So I want to add all these creatures to my signature once I know what icons to use and once I name them all. I will do my very best to care for them but admit I might have to rehome some if I feel it is too much. But in the moment she was pretty desperate hoping for good homes and we wanted to try and do right by the birds and not see them handed over to just any Joblow to end up with who knows what fate.
So we brought home two bonded pairs of rosy bourke parakeets, a pink pair and the other issue one pink make one wild color female I have added what I think are icons for those. And a line young pink male rust also. So 5 of them. They are all in the 1-3 year old age group. We also brought home a single male Java rice sparrow about 4 years old, a blue mutation red dumped parakeet about 1 year old, and an approximately 12 year old male Mulga parrot. So yes my next couple of months are all about getting to know these poor birds. They were living in a dark cool basement with one tiny window. The owner was doing the best she could and she hated to part with them. But we just felt it best to take what we could and either try and keep them all or, in time , perhaps take the time to find really good homes for a couple of them. Maybe. Already getting attached and thinking of names. Sigh. But we'll do what is best for the birds in the long run. I rather consider it a bit of a rescue, though they certainly were not free. We shelled out a huge hunk of $$$ for these 8 birds and cages. It was not near what they'd be worth to go out and buy individually. But still. The dear old Mulag boy was free , she had got him free 3 years ago , and I just couldn't bear to separate him from his cage mate the red rump parakeet (blue mutation).
anyhow I'm sure I'll be posting more about these kids but I just wondered if there ys an UD list somewhere if what those icons are supposed to represent.I didn't see anything that looked like our Java, or the Mulga, I could probably choose an icon for the blue mutation red rump even though it might actually be a different species. Lol.
Yup so that's our weekend. Totally for the birds it was!!!!
Pic of the original pair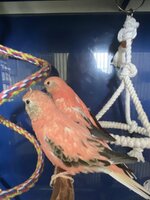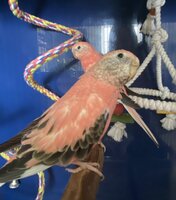 we were first interested in.