Rollerblading along the road
Celebirdy of the Month
Mayor of the Avenue
Joined

6/4/19
Messages

3,636
Location
After Blizzard passed away, I have missed having two budgies chirping and playing together all day.
So now, three months later, I have brought home Pickle! He is half English budgie and half regular budgie. He hatched on 12/20/20 and just came home yesterday. Right now he is in quarantine, but he can hear Kiwi and they're already tweeting back and forth to each other
The store he came from allows their babies to learn to fly before clipping so luckily even with his clipped wings he can fly very well! He still needs to practice his landings though
If anyone could confirm that he is a male and what his mutation is, that would be great! I'm thinking that he's a spangle?
(I included a pic of his vent because I was wondering why the area is blue)
(Btw the red spots on his head and tail were to tell him apart from other babies at the store)
Meet Pickle!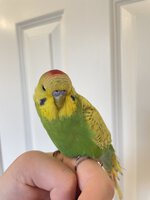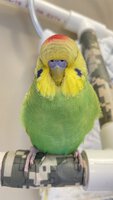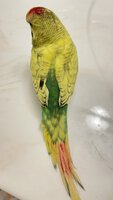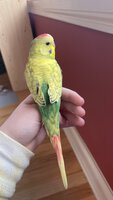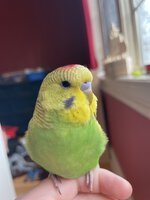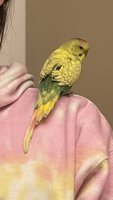 Last edited: