Cruising the avenue
Vendor
Avenue Veteran
Celebirdy of the Month
Mayor of the Avenue
Avenue Spotlight Award
Avenue Concierge
Joined

10/16/09
Messages

11,080
Location
Real Name

Claire
Well I got to the breeder today. Awesome drive, peaceful and scenic.
These are the two boys I have the most interest in. All adults are beautiful! She also had a Border Collie female who was so sweet. It felt so good to run my hands through that soft fur again.
These puppies have the run, they follow, listen and are very social.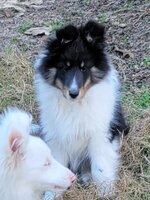 Tri boy 10 weeks. That double merle isn't a good thing, she can see. I didn't ask about hearing. They happen genetically when you breed for merles. She's very sweet too.
This breeder wants to hold onto this boy another week ot two to see if he stays in size to show. Has to be over 13 or 13" at shoulder. Below that, cannot be shown even though he's show quality.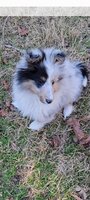 Blue merle boy, same as the tri waiting on 11 to 12 week measurement. Under, can be sold, over 13" will be used to show.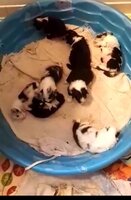 3 week old tub of bi blacks and bi blues.
5 boys in this litter of 8. Have to wait 7 or 8 weeks after stud owner looks at and picks a pup.
That's all for now, I got my fix and left a deposit for someone
Pray that tri stays too small!!