Cruising the avenue
Vendor
Avenue Veteran
Celebirdy of the Month
Mayor of the Avenue
Avenue Spotlight Award
Avenue Concierge
Joined

10/16/09
Messages

11,080
Location
Real Name

Claire
Update on Beetle. He's 9 mos going on 10 mos in April. Life here is perfect with everything.
He is not fond of stangers one bit. He did meet the next door Neighbors on a walk. He was clearly not comfortable, but as we talked he atleast sniffed them after 15 to 20 mins. He will not be hands on to those he does not know. He is very loving and hands on to us, such a total love bug.
I am okay with this, but he will have to adjust to the Vet.
His coat is getting longer, he's so much taller! He loves to play with Jett. He absolutely loves to chase kickballs. Chewing his beef trachea, cow ears, chicken feet that are all good for teeth, skin and joints.
We are 100% house broken and pretty much were after 2 to 3 weeks home. He has been crate free for the last week when we go out on short trips and doesn't chew on anything.
He's simply so good, and I am obsessed with him! You cannot not smile at that face!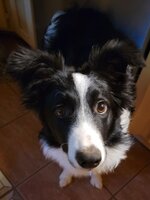 Yes, we like digging in the yard oye.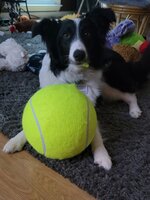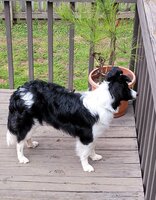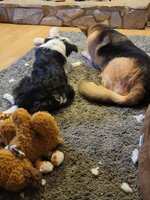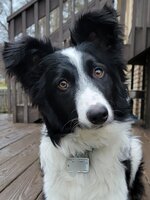 Lovely and so kissable!
Last edited: