Rollerblading along the road
Avenue Veteran
Celebirdy of the Month
Joined

2/22/14
Messages

2,377
Location
Real Name

Tanya
*** WARNING:
VERY GRAPHIC PICTURES
***
Human skin is made of a thick layer of cells called a dermis, with a layer on top called the epidermis. Our skin burns in three degrees, or four. First degree involves only the topmost layer of dermis and results in redness without blisters. Second degree burns go deeper into the dermis and results in blisters. Third degree burns reach to the bottom of the dermis, resulting in massive tissue death and scarring. A fourth degree burn is very rare, and goes through the skin to damage the tissues underneath.
Birds have skin with both a dermis and epidermis, but it is often much thinner then our own. This is most likely because feathers protect and shield the skin from environmental changes. I don't know if anyone has ever done a burn degree scale for birds, but I'm fairly certain that
burns that go through the skin to joints and bones would be third, or even fourth degree.
Early in December our sweet little Rhubarb was chewing her feathers due to itchiness from an Avian Borno Virus flareup with a secondary staph infection. This is not to say she was a naked bird. She had over-preened but no feathers were lost/pulled. I'd taken her to a vet and was still waiting to hear back on the diagnosis.
The vet gave me a paper printout that suggested a full spectrum light. I'd been reading about them for awhile and so I decided to go for it.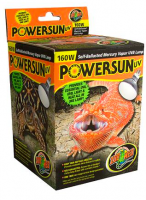 I purchased the ZooMed PowerSun combined heat/full spectrum bulb and mounted it 24 in (0.61 m) above her cage. The highest perch in her cage was another 12 in (0.39 m) down from that. This was a greater distance than the 14-30 in (0.35-0.76 m) suggested on the product label (
http://zoomed.com/Library/ProductDBFiles/UVB-Reach.pdf
)
She had it for only the two days between going to the vet and starting on the antibiotic ciprofloxacin. Cipro is known to sensitize human skin to UV and I didn't want to risk it.
Even that little bit was too much. Using this lamp was a HORRIBLE MISTAKE.
DON'T USE STRONG UVA/UVB lamps on birds!!!
Especially when they have damaged their feathers by chewing.
The first thing I noticed (after a bath on December 13th) was the blister on her right elbow: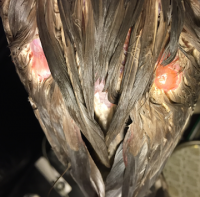 By the 26th this blister had became a large, angry scab and there was evidence of a small burn on the left wing:
As the scab appeared on her wing, a huge one also showed up on her back: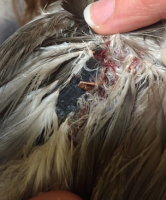 Thankfully our story seems to be headed for a happy ending.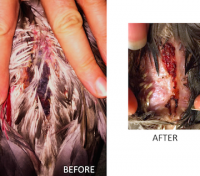 The "BEFORE" picture (taken December 25th) doesn't fully convey the true size of the scab as multiple feathers were included in it and make it appear smaller. It was an incredibly deep wound. The pale line between the legs of the backward-h scab at the bottom of the "AFTER" picture (taken yesterday) is her pelvis bone... the wound is still in the process of healing.
During our visit to the vet on December 29, he carefully removed the massive scab on her right elbow to see if there was infection underneath (high white blood cell counts) and to clean it out if necessary. The wound was so deep we could see right into the joint (see picture below). She was hospitalized from the 30th until the 2nd because her kidneys shut down from an interaction of ABV/medications (see
Pictures - Metacam and Kidney Failure - A Rare Side Effect | Avian Avenue Parrot Forum
for the full story).
When she came home from being hospitalized (day 6 in the time course above) the wound was still open and angry like on "DAY 0" and the vet suggested stitches once she was more stable. We immediately started using HEALx for
birds
on her back and elbow. The "Day 7" picture was taken about 12 hours after her first HEALx treatment. The wound on her right elbow had closed! The "DAY 14" picture was taken yesterday. The scab is shrinking, replaced by scar tissue that looks almost like normal skin.
With all that has happened over the past month, we feel very blessed to still have our Rhubarb with us. Please don't repeat my mistake! Knowledge is power! For more info on potentially dangerous vs. safe lamp brands/bulbs see
UV Lighting for Reptiles: A new problem with high UVB output fluorescent compact lamps and tubes?
Last edited: