Rollerblading along the road
Avenue Veteran
Celebirdy of the Month
Joined

2/22/14
Messages

2,335
Location
Real Name

Tanya
Thank you all for your kindness and comments. I went to bed right after posting and was surprised by the amount of response when I checked this morning.
One suggestion I have is try Manuka honey on the wounds. It worked wonders and quickly healed my Dexters' wounds.
Honey is pretty great stuff. It's antimicrobial and soothing. I'll look into it for future scrapes and such. HEALx is an aloe-based product from the same company that makes Harrison's pellets and I'm nervous to switch half way through on this one.
I also wonder if Rhubarb was also extra sensitive due to being immune suppressed from ABV?
I'm not sure about immune suppression. I suspect it might be related to damaged feathers that looked as if they were fairly normal but were not as protective as they should be. Also, I think it was probably the kind and amount of UV the lamp was putting out (more on this below).
I have that exact bulb on my gecko and it gets HOT since reptiles are cold blooded and need heat to digest food. There are special bulbs that remain cool designed for parrots. We use this full spectrum for Kiwi and it doesn't get hot at all:

Full Spectrum 15w light bulb by FeatherBrite
That is a good point. I'd gotten the heating lamp because our house was on the cool side and her little heater was low to the ground. (Side note: My husband voluntarily turned the thermostat up 6F (3.3C) when he realized she was chilly... this is a BIG deal for our house and I realized how much he loves our little Rhurbarb.) Her normal cage is so big it was hard to position a light and the heater so they were shining on the same point. I did do the 5-minute hand test to see if it would be too hot 3 ft (1 m) under the light. It was mildly warm but not hot. Though there was a very, very faint tingle in my skin by the end. That should've been my warning sign, but I didn't know what was causing that feeling.
I have always been apprehensive about the use of these lamps, I have never used them for my birds and don't think I ever will.
When I was in search of full.spectrum lighting my avian told me to make sure that I did not use those for reptiles but ones specifically for birds as there was a difference.
Thank you for this post. I was getting ready to buy lighting for my birds and this helped with my decision.
Parrots in the wild don't spend many hours under the sun so a large direct output of UV is harmful to them (vets have been seeing more cases of squamous carcinomas as well as burned corneas) if it's too close. Clamp-on lamps or floor lamps over a cage are both no-nos. The only safe light is the one in the ceiling fixture.
I have to start by saying that not all lamps are created equal.
Some lamps are SAFE to use and some are NOT SAFE.
The herp (reptile) people have known this for awhile and most references on the subject are from them. They are motivated by experiences like this poor baby chameleon, which died from overexposure to UV light: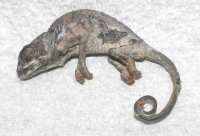 (The scab on the side of the chameleon looks very similar to what I saw on Rhubarb's back and elbow.)
Avian full-spectrum lighting is a relatively new concept for many of us so we're still in somewhat uncharted water. After this happened I went a-reading and got myself educated on the topic. This will be a bit long and sciencey but it's worth knowing if/when you do decide on a lamp.
Ultraviolet (UV) light comes in three flavors: UVA (high energy/short wavelength), UVB (higher energy/shorter wavelength), and UVC (highest energy/shortest wavelength). Most of us have heard of UVA/UVB because some, though not all, of the UVA/B in sunlight get through our atmosphere to the ground. UVC and x-rays are very high in energy and are blocked by the air. This is a good thing because they are ionizing radiation and DNA-based life would have a hard time existing with a big dose of daily radiation. Glass also blocks UVA and UVB light, which is why people say that letting birds sit in a sunny window isn't enough to get vitamin D. UVA/B is so energetic that when it hits the proto-vitamin D on the feathers of a bird, which is secreted by the preen gland and spread around during grooming, there is a chemical change and the vitamin D molecule is converted to the active form. The same thing happens in our skin when we go out in the sun.
The problem is that some lamps have too much UVA and B and some even emit UVC. That last group is the most dangerous because our birds never see even a hint of UVC in the wild. Unless they happen to be flying around at 25 mi (40 km) above the surface of the earth. Keep in mind that Mount Everest is only 5.5 mi (8.8 km) high.
There are two ways the UV output is measured. One is simply the energy per area (in microWatts per square centimeter) and the other is UV index. UV index is a linear scale weighed toward the highest energy UV, the kind that is the most damaging to cells. For an idea of the relative safety of different levels of UV index, there is a helpful chart from
Welcome to Solartech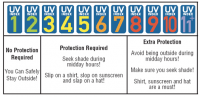 Lamps that are in the UV index 1-2 range ARE
SAFE
for use around birds when used as recommended and with the cords out of reach of curious beaks. Above UV index 2, be careful! UV index 3 or 4 may be safe for short times or at greater distances from the bird.
DO NOT use lamps with a UV index ABOVE 5!
The following table is from
UV Lighting for Reptiles: A new problem with high UVB output fluorescent compact lamps and tubes?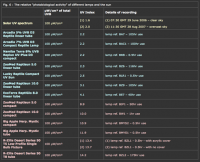 Based on my research, UV lamps can generally be grouped as follows (see
UV Guide UK - Ultraviolet Light for Reptiles - 2005 Reptile Lighting Survey
for more details).
LEAST RISK - Fluorescent Tubes
SOME RISK - Compact Fluorescent Bulbs
HIGH RISK - Mercury Vapor Flood Lamps
VERY HIGH RISK - Mercury Vapor Spot and Narrow Flood Lamps

Remember that the closer the bird is to the light the higher the UV exposure!
When in doubt, INCREASE DISTANCE and REDUCE EXPOSURE TIME!
Also, beware of dangerous reptile bulbs repackaged as "avian." This ZooMed AvianSun 5.0 compact Fluorescent bulb is identical to the ZooMed ReptiSun 5.0 in the table above.
There's been so much research done by good people who keep reptiles, I think it's worthwhile to take a look at the information they've gathered before endangering the eyes and skin of our sweet birdies.
Additional sources:
UVB Mystic tube from Big Apple Herp tested with a meter results inside
- Chameleon Forums
Exo Terra : New UV rating system
ReptileUV Mega-Ray Mercury Vapour Lamps for Reptiles - Test Report UV Guide 2006
Last edited: