♥❀Livin´ in Lovebird Land❀☼
Super Moderator
Avenue Veteran
Celebirdy of the Month
Mayor of the Avenue
Avenue Spotlight Award
Avenue Concierge
Joined

1/8/18
Messages

28,983
Location
Here are some photographs taken of my beautiful Roseicollis lovebirds growing up.
I want to share them, along with their age in each photo as it may help someone identify how old their lovebird is.
Most of these pictures are from after the chicks left the nest. As not many people will obtain a lovebird any younger without knowing its hatchdate. I have included some later pictures of when the black beak starts to turn ivory (for white faced lovebirds).

This thread is not so much a discussion, more for reference
I´ve thrown in 1 or 2 family pictures because all of these chicks had contact with both parents after leaving the nest.
None of these birds were sold. Lapis, Nube and Adélie live with me. Petin and Saatchi were gifted to a friend of mine. Blue was gifted to my neighbours friend who has a lovebird.
Lapis and Nube hatched on the same day. Lapis first. They were a 2 chick clutch.
The photographs with the full second clutch (x4 chicks), I will use the elders (Petin and Saatchi) date.
Blue is one day younger than them.
(Adélie is 1 day younger than Blue but he is
excluded
from this as he is a slow grower)
(Disclaimer: You will never know 100% just by comparing photos, but if it a normal growing lovebird this may give you a good approximation. If the bird is as slow grower, this will not be helpful. These photos were taken just for myself and not with the intention to create this thread. So that is why there may be days missing and/or bad camera angles. These are just my experiences with my family)



Hatchday Petin & Saatchi: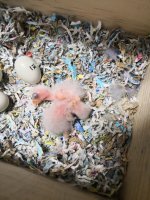 2 days old Petin & Saatchi, Adélies hatchday: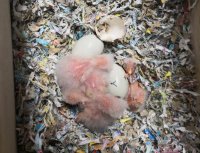 10 days Petin: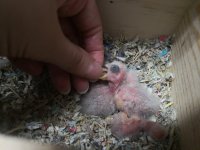 12 days Petin, eyes starting to open: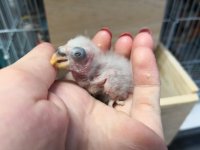 15 days Petin & Saatchi: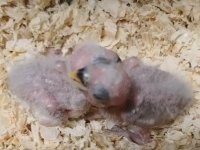 16 days Lapis & Nube:
18 days: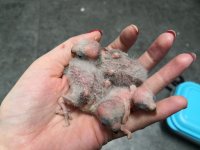 20 days: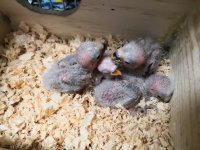 21 days Saatchi & Petin: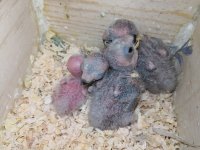 21 days Lapis & Nube: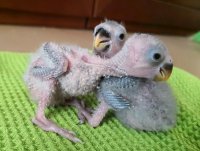 22 days Petin: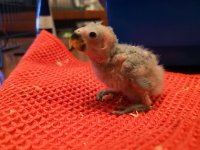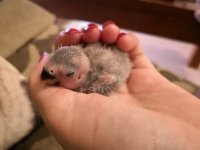 22 days Petin & Saatchi: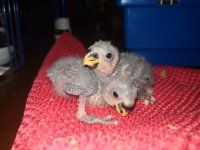 22 days Lapis & Nube: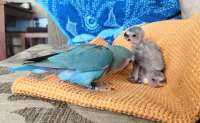 23 days Petin & Saatchi: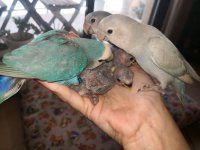 25 days Laps & Nube: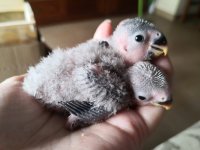 26 days Lapis & Nube: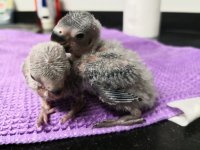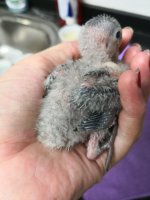 26 days Petin & Saatchi: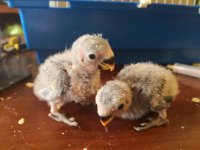 27 days Petin & Saatchi: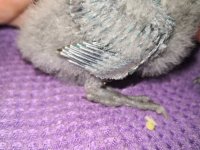 28 days Lapis & Nube: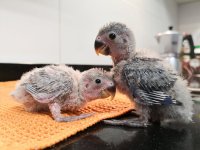 28 days Petin & Saatchi:
30 days Lapis & Nube with both parents: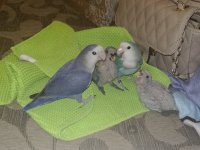 30 days Petin & Saatchi: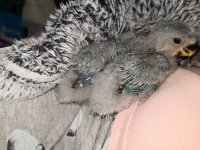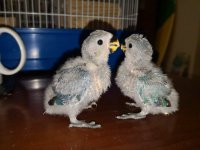 Last edited: