Joined

9/9/18
Messages

27
Location
Hello all,
I've had budgies before, but it was 25 years ago and the very height of sophisticated bird care was finding room in the tiny cage for the inevitable mirror, although that might have been because I was a kid with limited access to information and had to depend on the pet store for all my info. Those pre-internet days were like a whole different world...
Our family has recently acquired a bonded, proven pair of unrelated parrotlets. It is a rescue situation; the male is healthy overall and relatively normal. The female is a plucker and underweight. I've been researching nonstop since we got them a week ago.
Going to attempt to transition them to Harrison's pellets and Volkman's Parrotlet seed mix. So far, they won't touch anything but millet and the mix the previous owners had them on, which is for finches.
It's pretty obvious from how they move around the cage that they're unfamiliar with toys, rope perches, floors that aren't grates, or bath time, but we're working on it. They have an appt with a CAV later this week.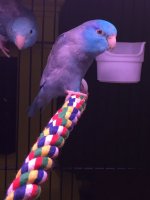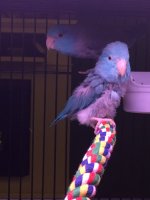 The top pic is the male, who we're calling Popo. The bottom is the female, who we're calling Iztacci (Izi).
Popo has spookily gray eyes! I expected them to be dark.