I have had a pair of parrotlets in quarantine for nearly a month, and was planning to transition them into a new cage in my bird room sometime in the next few weeks.
However, I have been reading about more aggressive hookbills doing serious damage to or killing other birds FROM WITHIN THEIR OWN CAGES.
I would never have the parrotlets out at the same time as the other birds (budgies and Bourkes - photo below), but now I worry that the curious parakeets will alight on the parrotlet cage and risk losing a foot or a beak with a hard bite delivered from within.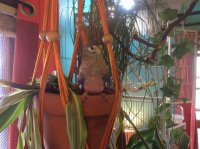 The two parrotlets are both female - photo below. One is disabled and cannot fly. The other is a pistol, flies quite quickly, is very territorial around her cage, stays notably protective of her disabled friend, and packs a wallop of a bite, which I have thus far experienced twice, once while cleaning the inside of her cage and once while returning her to it after an unexpected outing.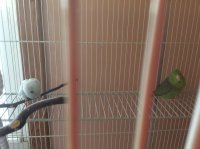 My budgies and Bourkes are out of their cages quite a bit - photo below - always when I am home, but also when I am not in the room.
Now I feel worried that one of them is going to receive a mortal injury while visiting the parrotlet cage from a very feisty, territorial, and protective parrotlet.
Even if I were directly supervising, I don't know that I could prevent an altercation since the parrotlet in question can move very fast if she so chooses.
Should I try the parrotlet cage in the bird room or work to find another location for it? Does anyone have any similar experience with managing bird rooms such as the one I might end up with?
Thanks in advance!