Oscar is a male Military Macaw who is approximately 10 years old.
This thread is to share what I'm learning along the way as we attempt to determine what's causing Oscar's respiration to be... "not normal".
October 2020 - Oscar came home to live with Marvin, Jericho and I.
January 2021 - Initial consultation with my regular avian vet about Oscar's breathing being "not normal". At this time, he had an occasional clear discharge, primarily from his left nare, and (it may be my imagination, but) his voice changed. My primary vet did a nasal culture and flush, and listened to Oscar's breathing -- neither were worrisome.
June 2021 - back again to my primary vet for a repeat of the above (same symptoms, same diagnostic, same non-conclusive non-worrisome response). When we discussed Oscar's heavy and slightly audible breathing after flight, my vet suggested it might simply be exercise intolerance.
At the time, I created this other thread asking about exercise tolerance...https://forums.avianavenue.com/index.php?threads/macaw-activity-levels-and-exercise-tolerance.264590/
July 2021 - for the first time, Oscar had a thicker, slightly yellow-green-ish discharge from his nares. I contacted my primary vet to obtain a referral with the Ontario Veterinary College Avian & Exotic Medicine Service (an excellent practice associated with an excellent veterinary school, hereafter referred to as the, "the OVC").
Even though Oscar has a healthy appetite and activity level, he's definitely, "not normal", in the breathing department, and that's the nagging feeling that pushes me to figure this out for him. Even though my primary vet didn't seem overly worried -- I am.
That appointment was today.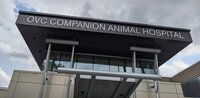 9:00am - caffeination for me, and travel-caging for Oscar
9:30am - hit the road (the OVC is 174km, or just shy of 2 hours from our home).
11:30am - arrive and complete a new patient intake questionnaire (lifestyle, nutrition, environment, other pets, etc).
12:15pm - they take Oscar inside for the initial exam.
1:00pm - discuss diagnostic options - complete blood work, nasal culture, and CT scan - agreed to it all. Discussed sedation risks, and the risk from the "contrast injection" for the CT scan (they perform 2 -- one clear, and one with a contrast injection). They told me they don't do contrast injections for birds smaller than 100g because they deem it a high risk for that size bird, but described the risks to a 1000g bird that's "normally healthy", like Oscar, as only a slight risk. The CT scan takes about 15 minutes, but needs access to equipment.

This is a pretty good overview that describes the value of a CT scan, and compares it to other options (link).

They said he was a joy and talked to them quite a bit during the exam (he does like women).

CT scan scheduled for 2:30pm, so I wandered around campus trying to find a Starbucks. Suggestion for Google Maps -- if a Starbucks is in a building which requires a student card to enter, please note it in some fashion. Ended up walking 4km to find a publicly accessible Starbucks.


4:00pm - received a call that Oscar was out of sedation and light anesthesia, and was doing well. Groggy, but otherwise fine.

Nasal culture and blood work were fine.

CT scan revealed a, "thickening in one of Oscar's right air sacs, which will require a closer look and biopsy via scope at a follow-up appointment". The benefit of the CT scan is they know where to perform the scope, and based on the location it will be a slight incision that's just large enough for the scope. The scope procedure was described to me as low risk, and the best course of action to determine the cause of the thickening. I agreed with the recommendation, and the appointment will probably be within a month.

The usual suspects will be investigated during the scope procedure -- bacterial infection, aspergillosis, or scar tissue from a past issue.

The OVC was very professional and confidence-inspiring.


4:30pm - drove home through periods of torrential rain - Oscar was very quiet.
6:30pm - arrived home and let Marvin and Jericho out of their cages (it was a long day for them too).

Oscar is enjoying some extra nuts on his jungle gym, Jericho is on my shoulder grinding his beak, and Marvin's chewing a toy while I type this thread.
All is, once again, right with my world.
Today's cost breakdown (Canadian dollars)...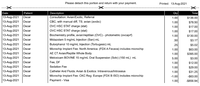 (the eagle-eyed among you will notice I also had Oscar microchipped while he was sedated)