Joined

4/4/19
Messages

115
Location
Real Name

Adelina
Hi everyone
So my Alexandrine parakeet had some problems about a week and half ago with two of her nails. One of them got broken and resulted in her getting a bandage at the vet. Next day, I went to the vet to remove her bandage and noticed some drops of blood and by the time I got to the vet it bled quite a lot. The vet told me that the nail was completely ripped off and it remains a mystery (either it got caught in the other bandage or she just felt like ripping it off). So, no more bandages for her, just to giver her the antibiotics. Gave her the anitbiotics for a week, until last Friday. Everything was going well that Friday, until later that evening she messed up with the wound of the first nail, bleeding started again. On Saturday, throughout the day, the wound was ok. Came back from a walk and noticed blood and most likely was from a small clot from where she ripped. From then until now, there has been no bleeding and the wound seems to be healing, I hope.
On Saturday, I have made an appointment at a another vet on Wednesday, to a place farther away.
I am in a bit of dilemma. On one side, she does seem to be better, but I do not know if she will start nipping at her wound again and that concerns me. On the other side, she is not hand tamed and it is quite the stress for me and for her to catch her and I am also afraid that once she is inside her carrier, she will start panicking and start prodding at the scab and eventually start another bleed. Another thing I am afraid is that if the vet puts a bandage around her wound, she might start picking obsessively at that or at the toe with no nail or at a completely fine toe. I know the vet could put her a collar, but I read that they cannot raise the wings, balance or climb and since she is wild/not hand-tamed and doesnt have an adequate place to stay to fit her need, I wonder if there is a need for that.
Sorry if it is too long to read, but I need your advice.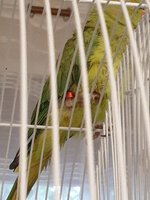 .