Joined

12/18/19
Messages

12
Location
Real Name

Ana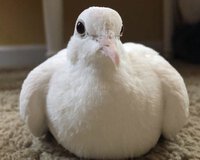 This is Olly!! He is a five year old Ringneck Dove. I am Olly's third and final home. I adopted him from a woman off of Craigslist who adopted him from a magician! Before his previous owner, Olly had never really been socialized by the magician unless he was taken out for practice or performances. And then the magician retired and rehomed Olly to the lady I got him from. He has also not been socialized around other birds before he came to me, but he's doing very well with my parrots!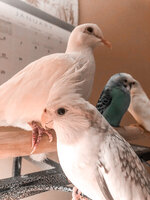 I would say Olly is definitely domesticated but I wouldn't necessarily say he's 100% tame. I've read that it takes doves time to warm up to new people which is understandable! I just feel like Olly gets less tame each day. He isn't the biggest fan of perching. Or being pet. And he definitely doesn't enjoy head rubs or neck rubs. He will eat millet when I hold it up to him, and he will perch on my hand after a lot of reluctance. When I first got him, he could be content laying near me on my bed, but now he flies off to his cage. How can I get him to be more comfortable with me? I see a lot of people have their doves snuggle up next to them and I'd love reach that level of trust with Olly!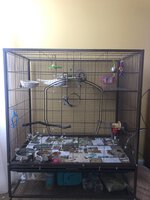 This is Olly's cage I got him. I would have more shelves but he's only interested in his mirror and the branches. I just feel like his cage isn't very homey and I'm not sure what I can do to make it more comfortable. Any suggestions? I've though about getting him a basket but I don't think he'd be interested.
​
- How can I bond with Olly when he doesn't really want to be handled?
- How is his cage setup? Should I get different toys? A basket?
- Do doves enjoy vegetables? How should I offer them? Chopped? Mixed with seed?
- Olly doesn't eat much. Just once in the morning. Is that normal?
- Do doves enjoy sprouted seeds?
- Other than millet, what are some of their favorite treats?
- When he's out of his cage, he just likes to stay in one spot. He doesn't walk around or explore, and he isn't interested or curious about anything. And he sits on his mirror perch all day unless he flies down to take a bath or eat or drink. Is all this normal?
Thanks in advance!