Checking out the neighborhood
Joined

10/12/21
Messages

2
Real Name

Rebecca herring
my friend recently was incarcerated and she wanted me to take care of her bird because she is gonna be gone a while and so is her spouse…..
so I go over to get the bird ( wood wood) and I get there and he is in none of his cages or on any of his perches, it's dark as black in the house, I don't hear a peep. Now normally this bird hates my stinking guts, and I hear nothing.. I'm literally freaking out like what if he's dead. I smell something awful and I look down to see what it is if it's close or whatnot and I see Wood Wood in the gallon bucket of bird seed and he's not moving……
instantly I freak out and I'm start crying like she's gonna fricking kill me. (Pardon my language)
Then he moves. I pick up the bucket slowly and get him to come out to me.
I put him inside his travel sized cage and I had brought water with me because I didn't know if he had any lately. And he starts bobbing his head up and down and eating and drinking. He is only a year old I believe but I'm not sure..
I was wondering if anyone could help me maybe identify where he came from by his leg band…. Please. Any help is greatly appreciative. His band says. AGH OK 20 016
He doesn't talk yet to me anyways. In the morn8ng I turn the light on in his room and tell him good morning and he chirps at me and while I'm in the bathroom he whistles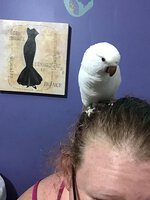 and sings a song I think. Idk really. But it's cute. I also have a daughter she's 7 ,and every time she enters the room or he sees her he does this chirp thing that sounds like a laugh..it's so funny.
and my puppy is a miniature breed dog and he's a big baby , he whines every time he don't get to go on a trip or if the bathroom door is closed and he don't get to come in with ya.
The bird has learned to cry like the dog and he cries and
when I go see where the puppy is to make sure he's not stuck somewhere the bird laughs at me when I figure out it's him… he's great. Any advice or help on how to get him to speak better?
​