Joined

4/6/19
Messages

8
Real Name

Ella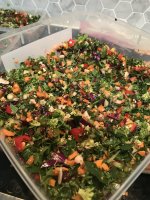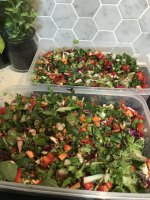 This is my most recent batch of chop! I make a new batch of chop about every month.
I try to add as large of a variety as I can, to ensure my birds are all receiving the essential vitamins and minerals and I like cutting everything into slightly varying sizes. After I took these pcitures I also added some quinoa, soaked nuts and some soaked seeds from a seed mix I made them consisting of chia seeds, pumpkin/pepitas, flax seeds, poppy seeds, millet etc. I feed fruit as I serve otherwise the whole lot doesn't last as long, and sprouts are offered along with it everyday. The vegetables at least include:​
Broccoli​

Cauliflower​

Beetroot​

Parsley​

Fennel​

Baby Corn​

Chilli​

Green Capsicum/Bell Pepper​

Beans​

Basil​

Red Cabbage​

Sweet Potato (I kept it raw but slightly steaming makes the nutrients more accessible)​

Kale​

Spinach Mix​

Bok Choy​

Celery (which is safe for birds as long as it's destringed)​

Carrot​
My birds are all really good eaters, and have been thoroughly enjoying it! My latest Alexandrine which I'm privately fostering (as in I'm not keeping her but I'm not fostering via an actual rescue) I'm still converting, it's been a slow process getting her to eat her veggies, but I'm sure she'll come through!​