Rollerblading along the road
Celebirdy of the Month
Mayor of the Avenue
Avenue Spotlight Award
Joined

4/12/21
Messages

4,541
A few weeks after bringing Mojo home i knew i wanted more conures my wife thought i was mad
I had kept in touch with the breeder i got Mojo from whatsapping him updates and pictures. After a while i gave him a call to ask when his tourqoise pineapples would next be available and arranged to get one from the next clutch of eggs at the beggining of 2022 however i had also noticed he had a yellow side on his website
So i sent a e mail one night and asked if it was still available would he keep it for me.
He gave me a call later in the week to tell me he would.
So plans where put in place so i could bring her home.
Mojo got a new bigger cage and her old cage was moved into my office upstairs and 16 weeks after getting Mojo i travelled to Stoke to pick up KiKi.
First thing i encountered is she is a total escape artist if the door is slightly open she is out.
So today i covered everything in the room so i could get the paper from the floor from her cage i had put food and water down there in case she didnt find her bowls.
She was out like a shot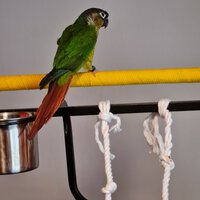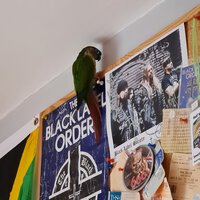 I added a couple of perches on the outside of her cage as i thought there where limited places for her to land.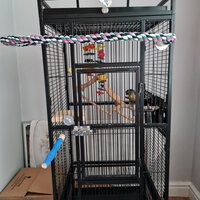 And then sat on the floor to allow her to have some zoom time and explore a bit i thought the floor was the best option as im 6ft1 and thought this would be less imposing.
Thankfully after a couple of hours she landed on her cage just below the door and headed back inside.
This was more accident than design but was very pleased as i didnt want to have to handle her to get her into the cage ( i had to yesterday wasnt happy about it but was the only option )
I have decided no paper on the floor of the cage this means i can clean it without opening the door all interaction will be through the bars of the cage until i gain her trust i am going to go as slow as needed i believe it was a month before Mojo was first out of her cage.From Daves feedback and what i have seen so far KiKi is a much more nervy bird she is eating and drinking so i will spend several times during the day in the room with her over the next week and then the following week i am back in work so will be 10 hours a day with her for 4 days.
She has been very quiet so i dont know if Mojo is aware she is here she hasnt responded to any of Mojos calls.
Mojo is as usual being a rascal climbing all over me when i clean her cage and well being Mojo.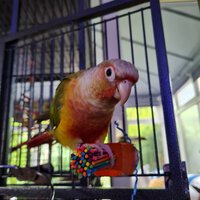 I bought that little block for her as it was full of paper sticks and she loves to destroy them but she really likes to use it as a perch.
Now shes enjoying a Old El Passo Nutriberri in the conservatory whilst i listen to the radio and have a couple of beers.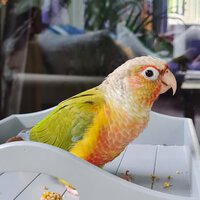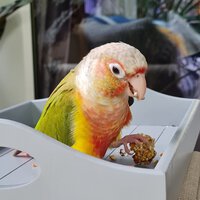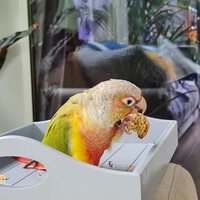 And just because i can one more of the new member of the Ward clan ( or should that be flock
)