Checking out the neighborhood
Joined

3/23/22
Messages

2
Real Name

Nancy
Nimbus is a white-faced cockatiel believed to be a he as he was very vocal and mates a lot. He flew to my house around February this year and I have kept him since I could not find his owner. He looked happy and lived well with my family at that time.
We decided to get him a 3-month-old friend, Sunny, in April. Nimbus has become aggressive ever since and seems to be protective over his little friend, but not anything severe.
I was told Sunny was a female by the seller but she is now more vocal than Nimbus so I'm skeptical she is a male. However, her feather wasn't fully molted yet.
Recently, he starts becoming territorial in multiple dark corners in my house and starts mating with an object on top of a cabinet. Often when I walk past the cabinet, about three meters away, he attacks me all of sudden. He also attacks me when I am further away from the house from time to time. I barely have a day without his bites on my hand
.
I tried positive punishment, putting him in his cage after he attacked for a few weeks but he did not seem to be better; I wonder if it works.
I didn't change a thing since I got Sunny. Is aggression comes from his friend? I desperately want him to be happy again
.
I would love to have suggestions from you all. Thank you in advance!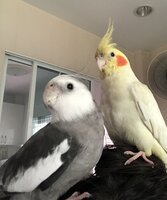 Nimbus and Sunny respectively!