Joined

5/1/17
Messages

174
Location
Real Name

Gwen
Hi everyone,

I figure this is a long shot, but you never know!

This is Ocean - he has been missing for 3 days now and his mom is worried sick (continued below).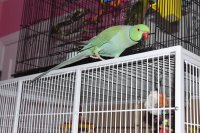 She is the breeder I got my Kalypso from, her name is Elaine and she owns Precious Angels Aviary. She's been trying to track him, but we live in a very forested area. He blends in well with the trees and the big worry is him being caught by a predator. He is an absolute sweetheart and is always on Elaine's shoulder. For some reason, the door was open the other day and he took off. He was last seen 2 days ago, headed towards Rusagonis Rd, but he could be anywhere in the area. Elaine has been playing the Ringneck calls dusk and dawn when he would normally be vocal. The first evening, he did talk back to her, but would not come out of the trees


Any advice or if anyone is in the area, I am positive she would love the help finding her FID!