Sprinting down the street
Joined

9/24/17
Messages

471
Location
Real Name

Zoë
Hi! I know this is off topic but I love this community and would rather post this here than any other forum


Not too long ago my parents decided to renovate their bedroom.
When they had to tear part of the wall open to place their new insulation they discovered this:

It was already abandoned, thankfully. I think it is a wasp nest but i am not entirely sure. I have looked up examples of both bee and wasp nests but they look similar and the colors can be very specific to one type of bee/wasp.

This is what it looked like taken apart: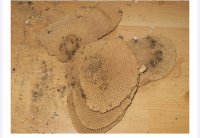 Thank you guys in advance!