Checking out the neighborhood
Joined

9/17/21
Messages

4
My blue female Quaker, Skittles, has been biting out her feathers and I can't for the life of me find out why, so I figured why not ask the experts?
As of April 1st, 2021, Skittles was a happy, healthy parrot that spent more time inside with us on the dinner table, on the lamps in the living room, and on everyone's desks than on her cage on our enclosed back porch, and during the summer she began plucking/biting feathers off her back, chest and wings, but had grown them all back by October, so I figured she was just preemptively pulling out her feathers so they could grow back. But by November she started plucking again, and as late December came around, only her flight feathers (including the larger secondary coverts), head feathers and tail feathers remained, only down covering what remained of her body. She continued biting off bits of down and more feathers well into late winter of this year, and we decided to take her to an avian vet for the first time on February 10th, the closest one being two hours away. There she got medication for pain relief, feather growth, and a gut probiotic for her new seedball diet (formerly a diet of Walmart seed mix). We gave her exactly what was required for as long as it lasted, and while it did help with her new diet, she didn't grow back any feathers until May, which she slowly bit out until they stopped growing for the summer molt, and she's been a patchwork of blue and grey down since.
We can't afford another vet visit until I can find a job, so I was hoping someone might have a dietary or behavioral change suggestion that could help her. In addition to her seedball diet, Nutriberries, she gets almonds and cashews basically every day, bits of peach, apple, banana, broccoli, corn, rice and oatmeal whenever we cook it, and plenty of love and attention from yours truly. We thought she might be bored, so we got her a few dangly toys and a pineapple chew toy in her cage and brought her inside to sleep — we're late sleepers, and we cover Skittles' cage with a blanket outside, so she spends quite some time outside under the blanket when the sun comes up and so we thought she chews her feathers during then. She is quite attached to me, but we've been weaning her off such close attachment just in case separation anxiety might be the cause. She's been getting more friendly with my sister and dad, and I come and go at more random times of the day.
If anyone has any suggestions for what I can do to discourage her from biting her feathers and/or encourage feather growth, I would really appreciate it!
(January 2021)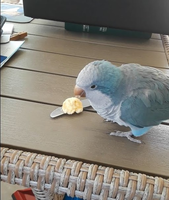 (July 2021)
(May 2022)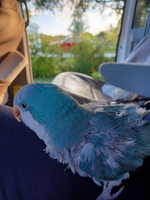 (today)