Checking out the neighborhood
Hello guys , I'm not sure if this is the right thread for this but I've got me eye on this GORGEOUS 2 month old fischer female. I am planning on taming her but I heard fischers are little bit timid and females are not usually outgoing as males are.
So what are your thoughts and tips when it comes to taming a 2 month old female fischer
Here she is..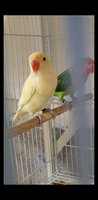 Beautiful isn't she?