Rollerblading along the road
Joined

11/23/19
Messages

1,922
Location
Real Name

Doroteja Lenassi
We have a saying in my country; The devil will eat flies in dire need.
This recipe came about during the COVID-19 pandemic, a last resort if you will.
My orders from the online shops are gravely delayed, so I had to experiment with Harrisons mash, which the bird wants nothing to do with!
Here's the end product: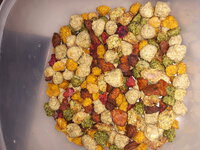 I belive it may come in handy also if you need to convert a parrot to a healthier pellet that is undyed or sneak some veggies into the diet.
You'll need:
-Harrisons mash,
-Baby carrots,
-Broccoli,
-Bell pepper, ground bell pepper,
-Spinach,
-Beets,
-love and patience
.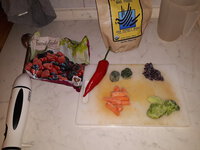 I used frozen foodstuff as fresh veggies are hard to come by. Also all of the veggies can be replaced with other ingridients to your liking.
︎1. Prepare the dough,
1 spoon veggies, 2 spoons mash add water sparringly and mix well untill you get a thick and even mass,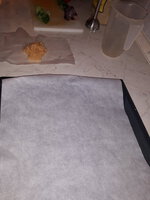 ︎2. Place the dough into the thing that is used to decorate cakes (I used a plastic bag), place a sheet of baking paper on the baking pan, start making pellets;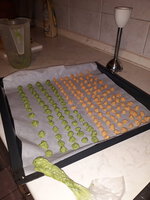 (Carrot & spinach)
︎3. Place in the oven at 150°C with the ventilation for 3-5 minutes. (This can vary depending on the oven. The pellets are done, when they aren't sticky anymore;
︎4. Cool and serve as needed, bon apetit!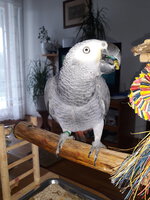 (Someone's eating spinach.. Yay!)
For safety reasons I think it best the pellets are consumed in 2 days.