Rollerblading along the road
Avenue Veteran
Celebirdy of the Month
Avenue Spotlight Award
Joined

10/27/15
Messages

4,244
Location
Real Name

Sylvi
I've been on AA since October, but I have realized I never properly introduced my four-leggeds.
I have two wonderful dogs and two beautiful cats in addition to my flock and hamster.
This is Benji, my male DSH with tabby and white markings. I got him from a rescue at 5 months. He'll be 2 in March. He tries to be aloof, but is a mama's boy and rarely leaves my side.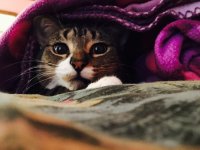 Next will be Fae, my female DSH with black and white markings. I got her from a man who had a stray give birth in his garage at around 2 months. She is just about 3 months younger then Benji and will be 2 in July. She is incredibly friendly, much more so then Benji as he is more of a "one person" cat. Though she makes sounds like she wants to kill you whenever you pick her up, but has never scratched or bitten anyone. A bit off that one.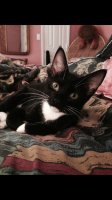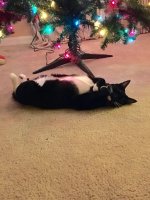 Now to my pups, first is Tahlia. She's my Bullmastiff, and she'll be 3 this September. I got her from a rehoming when she was 11 months, and am glad we got her. The people who had her didn't take good precautions for a mastiff, which we are dealing with right now. She was an outdoor dog, and was on concrete most of her puppyhood so her hips and elbows are bad. With glucosamine this is improving thankfully. She also came with horrible ear infections and scars from untreated allergies and calluses that she still has today. I love my big goober though, and she's the sweetest.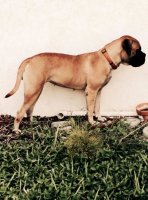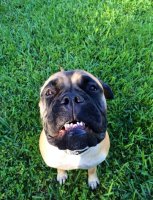 Last, but not least is our latest addition. This is Alphie, our MinPinxChihuahua cross. We got him last April a few weeks after sadly putting down our late elderly doxin. I met him as a skinny stray just brought in while volunteering and instantly fell in love. The rescue had gotten him on his last day at a local high-kill shelter and I'm so thankful they saved him. He'll be 7 this April. He's a typical small dog, all bark no bite. But he's a lovable little clown and adores cuddles. I can tell he is thankful to have a permanent home now, and we are grateful to have him.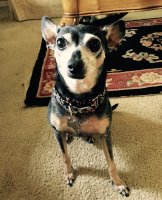 That's us! Hope you enjoyed the pictures and sorry if I rambled. I tend to do so when it comes to talking about my babies.
Last edited: