Joined

12/25/17
Messages

231
Real Name

Gemma
Hello again guys!
I just wanted to ask a question about molting, and the signs that you have witnessed personally as canary owners. As some of you may have read in my
previous thread
, my canary Peeps was showing some strange behaviors, but they were a bit difficult to read since they coincided with an off-season molt.
However...
I've never seen him go through a molt before, so I'm not entirely sure what to look out for. To clarify, I have looked up molting symptoms online, but I don't really have another point of reference.
It started around November (around Thanksgiving), and Peeps' feathers have been dropping since then. His feather-loss has accelerated recently from 1 or 2 feathers lying around the bottom of his cage, to 4 or 5 inside and outside his cage. I would often see feathers falling off of him whilst standing or as he is flying away. The skin on his legs and the bottom and edges of his wings are more visible now :/
What isn't matching up, however, is that he's still singing and flying, so I began to worry that he might not be molting.
Thankfully, we started seeing a couple of pin feathers coming out of his wing area (about 2-3) so perhaps he really is molting?
Though what's keeping me nervous are the little things he's starting to show... He's still pretty active, but I noticed he seems to be hopping about with more caution (especially today)--he's not slow and clumsy though.
What caught my attention, however, was whenever he tried to stretch out his wings. Normally, he would stretch them out completely with one leg without any problem, but now he would appear to be losing balance and would lower his leg before he can completely stretch his wing out. Is this normal? Could he be tired due to his new feathers growing out???
I haven't been able to catch that particular occurrence on video, but I do have his most recent observations (Jan 7) in an unlisted playlist on Youtube:
Peeps Molt (?) - YouTube
I guess my questions are:
1. Do pin feathers mean he's actually molting and indeed recovering?
2. Was the behavior I mentioned normal--as in have you guys seen that when your canaries molted in the past? Could it be fatigue?
3. Also, what are other things I should expect from a first molt? Can you tell me about what you witnessed personally?
4. Lastly (for now), when do pin feathers generally begin to show up, and how long does that stage last?
We'll be going to the vet in 2 days again, for his 2nd treatment of Ivermectin (as mentioned in previous thread), and I wi defintely be asking asking them if they notice anything odd too.
I also really want to get your guy's input, since I don't really know anyone else in my area who has one. Please help!
Also, thank you so much for taking the time to read and watching!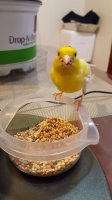 Peeps Jan 5, 2018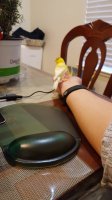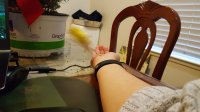 Jan 5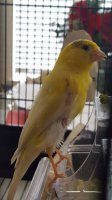 Jan 7, 2018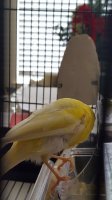 Jan 7