Rollerblading along the road
Avenue Veteran
Avenue Spotlight Award
Joined

1/12/10
Messages

1,355
Location
Real Name

Kelly
This offer is limited to first-time customers. This offer is not likely to be repeated and is an excellent opportunity for folks to sample these all-natural treats with their birds at a special introductory price.



We are located in South Florida and feed a variety of locally grown palm nuts to our flock. I have previously posted photos and videos here of various members of our flock tearing into the husks of the nuts and eventually extracting the nuts to eat.
We have birds as small as Caiques and as large as Blue & Golds who spend up to 20 minutes at a time working a nut. Palm nuts, therefore, are not only a valued part of a bird's diet here, but are also a great form of natural enrichment
for them.

We are pleased to be able to make an introductory offer to AA members residing in the US of a small box of a variety of palm nuts for a flat rate (including shipping) of $10. Your nuts will arrive USPS priority mail. The box will contain a sample of nuts from the following Palm Trees grown locally in the South Florida area and personally harvested by us: Queen Palm, Foxtail Palm and Fan Palm. Here is a photo showing what a typical box will contain: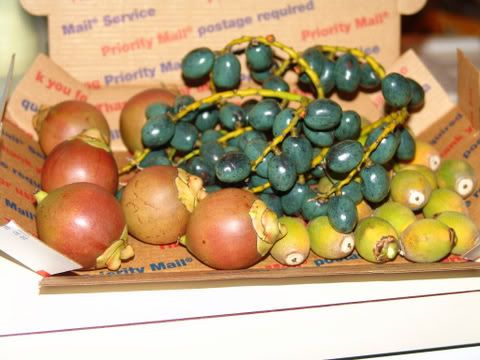 The nuts on the left are Foxtail Palm Nuts. The dark-skinned nuts come from the Fan Palm tree. The green ones on the right are from the Queen Palm Tree. The Queen Palm nuts will ship green but will ripen into a lovely golden color. They may be given to your birds either green or ripened. We find our birds like them either way.

We find the palm nuts store well in the refrigerator for approximately a week. Others have reported to us that they have frozen theirs for extended storage and thaw them in a cup of hot water before serving.

There is a learning curve to birds discovering that there is a nut inside the husk. Some people will smash a nut open with a hammer at first to show a bird what is inside. We have just left the nuts with our birds and allowed them time to discover this on their own. Our way is slower though, as we have found that while most will happily chew up the skin, fruit and husk, if left to their own devices, it can take as long as a month for them to find out there is a nut inside. Once this is discovered, birds are unrelenting in their pursuit of the nut. Here is a short video showing a Caique of ours working very hard to get to the nut inside the husk of a Foxtail Palm nut:
YouTube - Caique eating foxtail palm nut .mpg


Before feeding the nuts to your birds, we recommend that palm nuts be soaked for 30 minutes in a gallon of water in which 15 drops of GSE have been added. Rinse well.

Here are a few photos showing our birds feasting on palm nuts: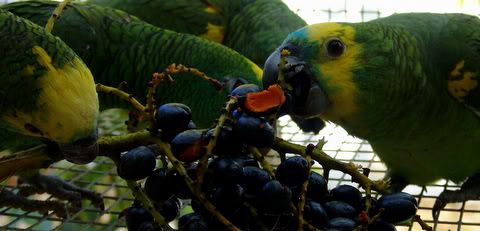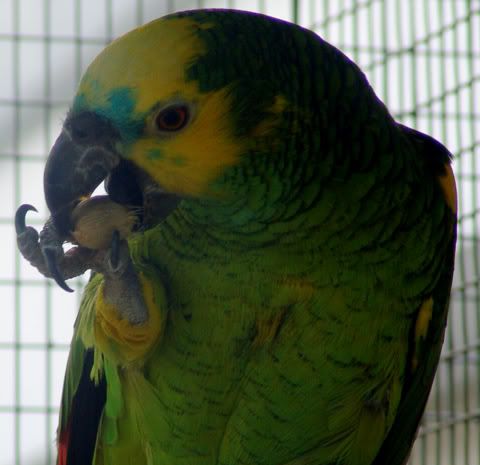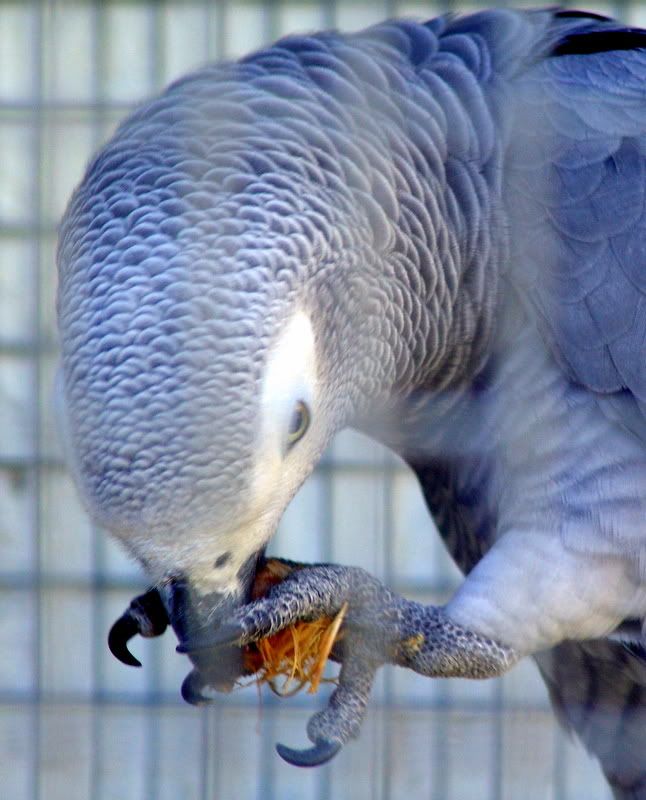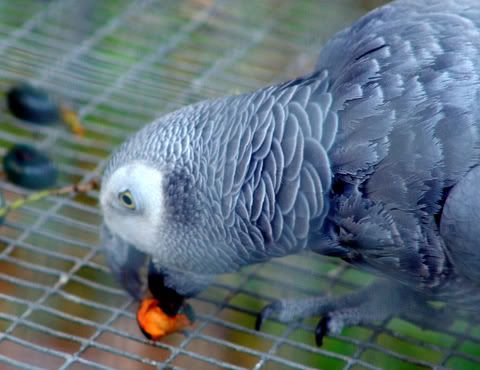 Here is a video showing my pet B&G named Cooper ripping through the husk of a large Foxtail Palm nut. He has already removed the skin and eaten the flesh around the husk and is now getting down to business and working to get to the nut.
YouTube - MOV06760.MPG

This is a video showing my pet U2 named Izzy ripping through the husk of a Foxtail Palm nut. Look carefully as at the very end of the clip you will see her pulling out the nut.
YouTube - Izzy eating Foxtail Palm nut(1).mpg

If you would like a box of these nuts for $10, please PM me to place your order.

We are limiting this offer to the first 10 people who respond.

The nuts you receive will have been cut down from the trees 1 to 2 days prior to shipment to ensure that they arrive to you in best condition. We plan to ship these on Monday, March 15th. Therefore, we must have all orders by

Friday, March 12th at 5:00 p.m. EST

, at which time this offer shall expire. Please note that the last time this offer was made, all 10 boxes were spoken for within 24 hours.

For those of you who PM'd me asking to be placed on a waiting list, your order has been noted and your boxes will be shipped tomorrow.



Thank you!