♥❀Livin´ in Lovebird Land❀☼
Super Moderator
Avenue Veteran
Celebirdy of the Month
Mayor of the Avenue
Avenue Spotlight Award
Avenue Concierge
Joined

1/8/18
Messages

29,206
Location
When buying toys I've had a few arrive to me with a lot of rope/string at the top that has nothing on it. I don't like giving that to my birds for safety reasons, so I would always tie as many knots in it to shorten it.. But there is a better way to fix it. Another time this tip is helpful is when your bird has pulled off some pieces from their toy, and now there's excess rope showing.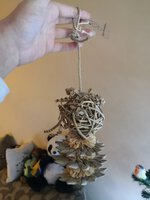 This is an example of a toy that is brand new but has excess string at the top. Another would be the yukka bird kabobs.
Push all the pieces up to the top as high as you can.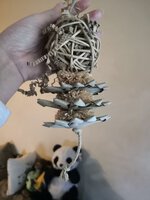 Tie a know right under the lowest toy piece, as close as possible.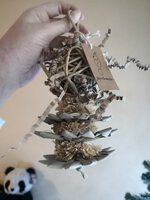 Cut a cm from the knot et voilà!
Super easy,, but honestly I had never thought of it before and was doing weird knots at the top to try fix it, so though I would share for anyone else who didn't think of this.
All credit for this tip goes to
@Danita
(I saw it on her toy video)