Joined

3/15/20
Messages

49
Hi! It's me again with your weekly update on the world's prettiest budgie! I can't believe it's been a week... I suppose time flies when you spend most of it with a little feathered friend.
Ok, let's start with the setback: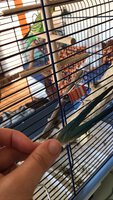 The little green devil learned to how to open his cage – and shaved a solid decade off of my life expectancy because he did it while I was cleaning and
all the windows were open.
By some miracle (especially since I'm very uncoordinated and cripplingly nearsighted) I managed to grab him right before he reached the terrace window, but I caught him by the tail and, by the time I had my hand safely around him, his tail feathers had come out.
Cori doesn't seem to be terribly upset by the incident, but he keeps giving what my birdkeeper friend calls 'conure tail wags', which would be extremely cute if it didn't mean he's in discomfort.
Judging by the slight peeling on his beak, pin feathers, constant preening and scratching and the number of intact feathers I keep finding around his cage, I'm fairly certain he's beginning to molt, so they were bound to come out sooner or later – they were already looking a little worn – but I'm really concerned I might have damaged his follicles by pulling them out before time.
I'm also concerned this will have ruined all the work I've put in this week towards gaining his trust. It's the third time I've had to grab him (one being when Lyra brought him to me and the second to move him from the shoebox to his cage) and I'm afraid he's going to be scared of me now. I know it's just a week's worth of bonding – it's not like he was about to start stepping onto my finger – but he we made a lot of progress in that week. Ultimately, it's not about the lost efforts, it's just that it's sad to have him scared of me, like having a friend treating you like a stranger, you know? maybe it's silly.
On the upside, he bit me
much
more gently this time, so I'm guessing he doesn't consider me as much of a threat now.
Regarding taming:
Should I give him a little space first, or continue with our bonding routine as usual? Mostly I've been spending most of my time with him, either in silence (he IS on my work desk after all) or reading aloud, singing or just talking to him. As of this morning, he hardly reacts to my hand when I bring him his food or when I put my hands on the bars, and he lets me get about two inches away from him as long as it's through the cage. I'm letting him settle down while I write this so no idea if any of that will change.
Regarding his diet
: the introduction of sprouts has wielded good results. I was planning to start introducing eggs in a month or two once he got used to a more varied diet, but now I'm thinking I might need to start earlier to help with feather growth.
R
egarding enrichment
: I bought him a toy. He did NOT appreciate the toy. I took the toy out. He seems (seemed?) perfectly happy just chatting with me or listening to his playlist of fun noises, but I can't help feeling he should have something to play with... I also put half his daily portion of seeds and sprouts on a bowl on the opposite side of the cage as an easy foraging exercise. He just screeched at me once he was done with the food on the feeder and realised that was it.
Also, I took his cage to the terrace with me the other day because it's been really cloudy in the mornings and there's a limited time frame where he can get direct sunlight through the open window, so I wanted to get him some sun time. He did not appreciate that either, though he started chirping back at the birds after a while. I might need to get him a full-spectrum lamp; Portugal's a very sunny country, but the forecast for the specific place I live in tends to be "who the heck knows with a chance of clouds".
@Monica
,
@tka
,
@Ulis_Beast
and
@Dorcas George
– I offered to tag you guys for purposes of cuteness, but now I'm going to need your input again...
-----
Addendum: I guess this answers the question of whether he escaped or was released. No word from the vet or the lost & found page, but now I'm feeling a little bad his original owner didn't just let him go.
There's always a chance it was one of those people who see smaller pets as replaceable decoration pieces rather than living beings. Whoever it was, they clearly couldn't be bothered to do their homework, considering he'll only accept seeds.

(Needless to say, all his cage doors are now secured by clips as seen in the picture.)