I saw this on a rehome link in Parrot Adoptions Ontario (
Facebook
) and thought it was quite clever if you need/want to cover a larger cage.
It looks like they've added some stand-offs to the sides of the enclosure to keep the material away from curious beaks (a
video
shows the setup in slightly more detail).
Of course curious/destructive birds would have a field-day climbing around on that when out of their enclosure so YMMV.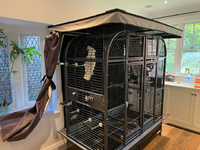 ​