Hello!
So I'm trying to add more wood perches around my room. I have this one spare perch and am waiting for a few more that I've bought.
So in the meantime I was initially gonna try tie it down on my window grill but it's not very stable so I thought a swing could be good: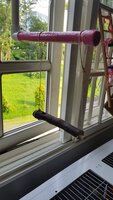 I put Preeno on it and it was so shakey. It looked really funny like he had the shakes! Second time on it he was balancing better (tail was still rather than moving about for balance). I feel silly for asking this but is this safe for him or is it too unstable? I was even thinking of making it slant so there's more going on for his nails.
Edit: in case anyone is worried about the gap in my window, Preeno doesn't really go very close so his foot won't get stuck. It's a very stiff window too so the wind won't blow it open/shut!