Joined

4/7/19
Messages

21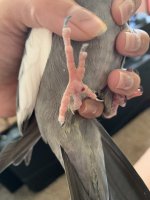 Hello,
So I noticed three days ago while trimming my boys nails that he has a bruise on his foot.
I searched his cage for anything that could possibly be irritating him. I noticed the new wooden bridge I placed in there for added stimulation was pretty tore up so I removed it since the sharp wood seemed most likely the culprit. Now it's day three, it has not increased in size but in deepening of color.
I want to note that he allows me to touch it, and is NOT favoring his foot. In fact, he's walking normal and perching normal.
I also want to note that I doesn't feel like a scab either.
I included pictures.
I'm wondering if this is something to worry about? I worry so much about any little thing since him and I have been through a lot together.