Joined

5/14/21
Messages

21
Real Name

Andy
Hi all!
First of all, have a very wonderful blessed Christmas and a safer New Year!
My beautiful wife works at the Animal Welfare League here in Queensland and recently one of her reception staff informed her that she had no other choice but to give up her two parrots due to landlord issues (can't stand people (landlords) who cannot understand the pleasures of having animals around the house).
So,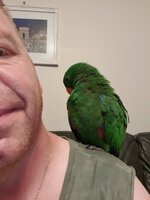 I'm not too sure if you remember me from quite a little while ago, but we got a rescue blue Indian Ring Neck who is beautiful but still very timid of us.
Now we Yoda our latest edition! My wife and I could not bare the thought of the poor lady having to give up her beautiful parrot so we offered to take him on!
Yoda is an Eclectus male parrot with beautiful colours of green, red and blue. He is very hand friendly and seemed to have taken to us very well....my wife has been regurgitated and he is obsessed with me!
Poor Sky (IRN) isn't too happy and tries to swoop him or land on his cage, we are trying to get them to know each other nice a slowly! Yoda loves human contact and over the past few days loves shoving his beak into our mouths!
He is great fun and we are so happy to help my wife's colleague as well as giving a loving home to another beautiful parrot!
Cheers!
Stefania, Andy, Sky, Yoda and Grizle (our dog!)