I had to run to the store to get something for Morgan, but they didn't have it at Petsmart so (against my better judgement) I went to Petland, ie. The Land of Godawful Habitats.
Petland's one of the very few stores that carries large birds like 'toos and CAGs, but I've
never
seen a macaw in one.
Until today.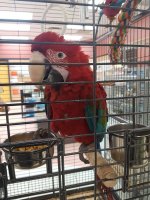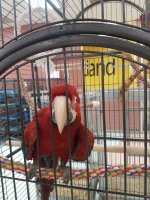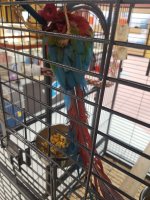 What an absolute little darling, you guys. Obviously all baby macs are tiny gremlin angels, but dang. I've never met a macaw so young. And he's already the size of Taco! You weren't kidding about how big GWs are.
Of course since he's in a pet store he's pretty desperate for attention and affection, so I spent the better part of an hour chatting back and forth with him and providing an endless supply of scritches.
I love.