Joined

11/13/22
Messages

13
Real Name

Lily
Hello i have a lovebird thats about 7 weeks old and he has no feathers on his head due to being attacked by bird when he was a baby. Thankfully his head feathers are growing back but that's not the main issue.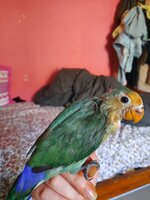 Compared to his brothers and sisters his feathers have discolouration and is a bit splochy, however, his siblings have very smooth feathers with a brighter colour.
(If you realised his feathers are short that's because i had to cut them a little so he wouldnt fly to the chandelier everytime i fed him)
He also hunches down sometimes idk if thats a
Im really worried if he's not being fed enough or there's something wrong. He's getting off formula and starting to eat solid food.
What can i do?