Sitting on the front steps
Joined

5/14/22
Messages

18
Real Name

Jessie
Hi all,
I posted Hawkeye my HH parrot over on the Hawkhead species page, but thought I would put both rescues here!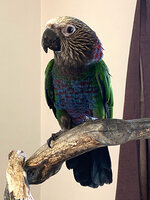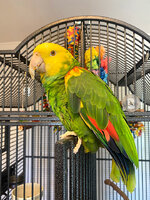 I recently adopted Hawkeye and Mango together, as they are supposedly a "bonded pair". They have a huge cage that is split in half by bars that they share (but cannot really get to each other). At the rescue they did often hang out in the top back near each other, preening each other and seeming to comfort each other. However, once I got them home, they've wanted nothing to do with each other. In fact - Mango walked over and put his birdie foot on Hawks head and gave him a bite. After that incident, I've kept them totally separate and they have no interest in each other at all, good or bad.
Hawk has a leg band and is about 20 years old. Mango does not have a leg band so sadly we will never know his age. They were presented to me as boys, but really we don't know. They seem quite happy with me, though they both are VERY upset by hands. I can hand feed them treats just fine, but if I don't have a treat they can be triggered by simply seeing my hand. We're working on it, slowly but surely. I've spent about 4 months with these birds and they've come a long way. I know they were in this particular rescue for at least 4-5 years.
I'd love any advice for getting past this trust hurdle with them. I know it takes time, which I'm happy to give.
2 funny things: Mango loves to explore on the floor and he looks so funny when he does. Hawk loves to sing, dance, and laugh like an evil genius! I'll get some videos up soon of his antics.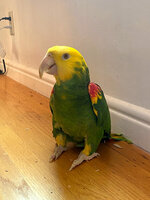 Thanks for all the advice and help I've gotten so far on this forum! I love to read about all your birds and just want to make sure my new flock is thriving. Also - don't worry about the chords here, the birds are supervised or chords are away when they are free-range chickens as I call them