❀♡ My birds are responsible for 99% of my typos ♡❀
Super Moderator
Celebirdy of the Month
Mayor of the Avenue
Avenue Spotlight Award
Avenue Concierge
Joined

1/8/18
Messages

27,259
Location
We're done. That is the end.

Adélie was born on 22 December 2018 and is now 155 days old (about 5.5 months) and today, no formula.

She grew slow and weaned slow.

Starting with feeding her every few hours at 5 days old.
Down from 4 feeds to 3 at 58 days old (8.5weeks).
Down to two feeds at 93 days old (13.5weeks)
Ate twice a day for weeks until recently, 146 days old (21 weeks).

She's a big girl, she weighed quite a bit towards the end of the handfeeding but now she's leveling off and I'm keeping an eye on her grams.

It has been a journey but she's a big bird now. She started her moult a couple of weeks ago and is now growing her adult plumage.

She's a wonderful bird who loves to play, but has that typical lovebird hen "don't mess with me" attitude.

Her flight has been improving now that she is eating less formula which is great. I had worried over her as she was a helicopter and not an aeroplane but this past week her skill has increased and can make sharp mid air turns and can fly in more of a swoop.

She's not a huge fan of my boyfriend just yet, but I'm sure she'll warm to him. He was scared to touch her for so long because she was "so fragile".

Also, I'm still amazed that @Eloy guessed her sex at just 8 weeks old.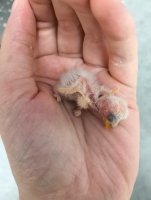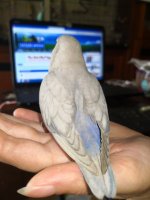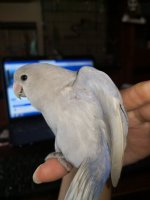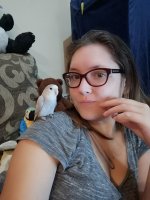 Last edited: