Hello, my quaker's around 6 weeks old and his/her name is kiwi.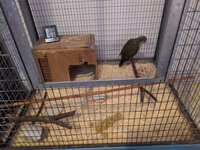 I moved him/her into a temporary cage (that belonged to the parrot i had as a child, but i'm currently saving up to buy a better one). He/she's really enjoying the perching activity, and while he/she is becoming more skilled i'm moving higher the perches. As you can see he has a cardboard nest, and my first question is about that: when you think would be the most appropriate time to remove it? The second question is about the room temperature, as you can see i have a thermomether inside the cage, and the temperature is always around 30 C (86 F), sometimes i've caught him panting, but even during the night the temperature stays around that. The only thing i have to cool the room is the a/c, but i think it's dangerous for parrots, isn't it?
The third question is for the "bowls". I'm currently using jar caps in which i always leave fresh tap water and pellets, and during the day i also leave another one with veggies and fruits. He completely ignore the water, which i know it's normal for now, and eats his pellets, millet sprays and fruits/veggies. My concern is about the bowl which he/she hates to the point he/she become aggresive, as you can see from this video.
Normally i put the "bowls" while he/she is not in the cage, and when they are on the ground, they doesn't bother him/her anymore. I should keep doing so, or should i change them? What else could i use?
Thank you for your time
EDIT
To avoid giving room to misunderstanding, he/she's not scared of my hands at all.