I never really talk about my "other" kids... but I train horses and live on a farm.
So my landlord has 6 broodmares and I have 3. This year I only had one bred (she's due in May) but his are all due now...
His first one ruptured a uterine artery and twisted her intestine and left her foal an orphan
But the baby is doing fantastically and is 3 weeks today.
The next one is 2 weeks on Saturday and then we have a week old colt on Saturday.
And tonight I'm waiting on one to foal, possibly two but I don't think cat will go. Joy will go tonihjt or tomorrow as she waxed yesterday and is producing milk.
The orphan when she was only a day old... I need an updated pic cuz she's huge now.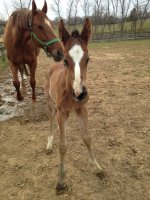 I love this little dude he's so independent but his momma hasn't had a baby before and she has NO control over him...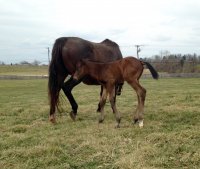 This guy was/is huge this was a day old.. momma brassy didn't want pics taken as this is her 9th baby and she's very protective...