Checking out the neighborhood
Avenue Veteran
Joined

9/17/16
Messages

3
Hi all,
My seven month old female cockatiel, Theano (to the right, cinnamon pastel),
has barbs on her P9 flight feather that just won't "zip" together, as seen in the pictures.
I've tried to encourage knitting back together by passing a little water through it, but they become spikes again when they dry, so it doesn't seem to be a preening issue.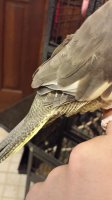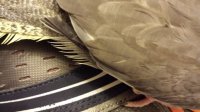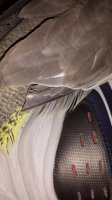 More recently, her secondary feathers or coverts (hard to tell) are beginning to display this problem as well (wispy filaments in pic). :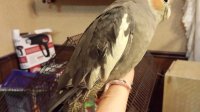 She had her feathers clipped when I got her, but it was a decent job (she could flutter fairly well)
she has since gotten some flight feathers back in and is flying just fine.
My concern is whether or not this is a malformation that will stay (like early angel wings or even PBFD), or just a remnant of the clipping.
Either way I'll be taking her to the vet soon, but am curious if anyone has seen something like this before.
Thank you for any input.
(Also if this is the wrong thread to put this please let me know.)
~CyberSage87