Rollerblading along the road
Joined

10/2/18
Messages

2,435
Location
Real Name

Rick
Hi all,
I bought this cockatiel cage from Petco. If I had to do it again I would buy a flat top cage instead so I could put a 'playground' on top and to prevent this from happening.
What I found with this arched type cage is my baby's foot got caught in the junction of the bars in the last vertical bar in the arch.
You & Me Cockatiel Large Standing Cage | Petco
I really don't know how to explain it but I'll try with pictures.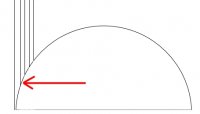 Please take note if you have an arched/curved top on your cage. That last vertical bar could be very dangerous to birds who like to slid down the bars.
My baby was fine. As I approached to help him, he flew upward to release his own foot but it scared me half to death to see him caught in that wedge dangling by one foot.
Last edited: